Now this post is coming shamefully after the fact, this is simply due to a temporary loss of speech induced by the awesomeness of the place.
When I saw the treetop huts in the hostel catalog I was immediately fascinated, and booked a weekend in easter.
The place is just north of Hamar, but not paying attention to signs and too much relying on GPS lead us some 20 km astray, on the wrong side of the lake, on a road ending in this:
So it was almost dark when we got there. To a fully equipped cabin in the treetops, 8 meters up in larch trees.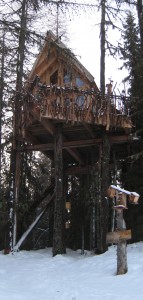 Except for the latitude, it looks just like any cabin. It can accommodate up to seven people, so us two had lots of space. Hot water, shower, indoors wc and fridge makes it comfortable, even without electricity.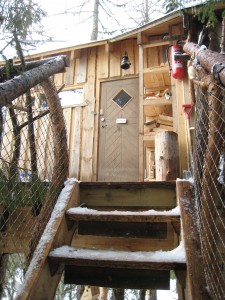 No worries, the stairs are rock solid.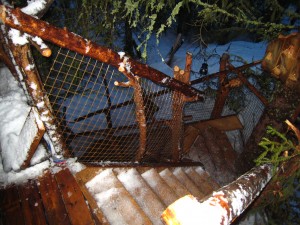 The car looks small from up there.
This cabin is brand new, we were the 4th party to write in the guest book. How neat to be among the first to experience this very unique place.
The host offers a range of nature activities, and we were going to try dogsledding. Because of the unusually mild weather this was not possible, but we had a nice walk in the woods.
Lots and lots of birds, at most we managed to capture six birdies in the same photo! No wonder, with all the classy bird's houses in the area. If I were a bird I'd live in this!
They all took off when this guy came for the seeds: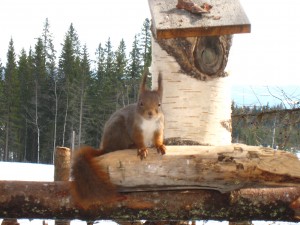 A stay in the treetops can be recommended to anyone wanting to take a few days in the deep woods, maybe especially for tourists wanting a taste of Norwegian cabin culture.
The loftroom: