I spent the weekend at Ruigh Aiteachain, a bothy in the Eastern Highlands, with the Shared Planet, popularily called the hippie society.
SP'ers are slow, and we were on wheels two hours late and it was pit dark when we were there. Luckily I got hold of a torch in the last minute – and not any torch, it originates from a Thai monastry. Without the buddhist torch the journey would surely have been an interesting one, as we had to cross a number of rivers. All creds to the guys who jumped in and ferried the rest of us over!
The most special moments were when we stopped on the side of the road in the middle of nowhere and got out of the cars for a break. It was already so dark that we could clearly see the Milky Way above. Highland music was playing on the car stereo, and all of a sudden everyone was dancing, jumping around frenetically to the quick tunes. Dave, photoes?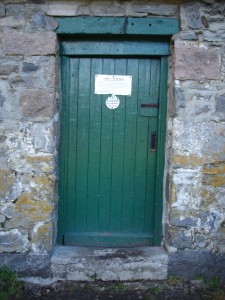 When we arrived at the bothy in the middle of the night, the most awesome party was already there partying. Very scottish, very sharing and quite drunk. Us hippies stuck to lettuce.
Note the glass on a stem.
Pretty inside door:
This guy was staring at us from the mantelpiece:
There was a stag meeting outside the bothy at night, they were discussing quite loudly.
Next day we went up Dram Nam Bó to Mullach Clach à Blhàir (all names in the area are in Gælic).
Bothy is in the green area.
It's windy on the tops!
Deerspotting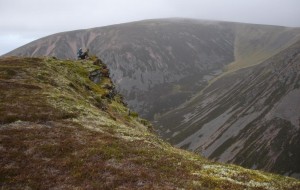 A horse tried to eat my boot.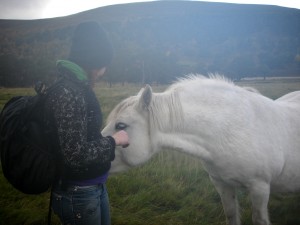 Dreamy photo thanks to the mist.
The climate is friendly, the veretation is friendly, and people you meet while hiking are so friendly. We got to know a number of interesting people, among them a Polish photographer who said the best photo he'd ever taken was of one of the horses grazing in the area. I think it must be this photo.
A sign I somehow wanted to follow:
Awesome shoes!
Views: